Simeon Ivanov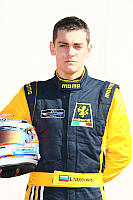 Birthday- 31-03-1988 Nacionality- Bulgara City- Sofia 1407 State- Bulgaria Address- Lyucotran str. N.5 app.4
2003 first race in karting in Bulgarian Championship ICA/J 2004
Bulgarian Championship – 2nd position ICA South East European Championship – 1st position ICA Bulgarian Best Driver Award
2005 Bulgarian Championship – 1st position ICA South East European Championship – 1st position ICA Kerpen Manheim Wintercup – 6th position ICA Bulgarian Best Driver Award
2006 South Garda Wintercup – 32nd position ICA Italian Open Masters ICA Formula Renault 2.0 Winter Series – 12th position
 Felipe Rachid Lapenna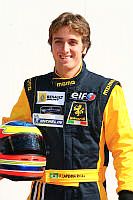 Birthday- 04-03-1986 Nacionality- Brasiliana City- San Paulo State- Brasile Address- Lyucotran str. N.5 app.4 1996 Prima gara in karting in Brasile 1997 Vice campione Parilla di kart categoria Cadetti 1998 Non gareggia per motivi di un incidente 1999 Campione Paulista categoria Super Junior 2000 Vice Campione Nazionale e Vice Campione Brasiliano di kart categoria Junior 2001 3° Campionato Paulista di kart categoria graduatoria B 2002 Campione Brasiliano e Vice Campione Paulista di kart graduatoria A 2004 Formula Renault equipe M4T Motorsport 2005 Vice Campione Brasiliano Formula Renault 2000 equipe Fulltime Sport 2006 Campione Brasiliano Formula Renault 2000 equipe Fulltime Sport
Cesar Ramos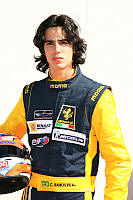 Birthday- 25-07-1989 Nacionality- Brazilian City- Novo Hamburgo State- Rio Grande do Sul Address- Silveira Martins, 412
1998- first race in kart- 56cc
1999- Brazilian championship – 1st place – 85cc South Brazilian championship – 1st place- 85cc
2001- South Brazilian championship – 2nd place- ICC/ Jr
2003- Brazilian Championship- 1st place- ICC/ Jr Pan America Championship- 4th place- ICC/Jr
2004- Sao Paulo championship- 1st place- ICA Pan American championship- 2nd place- ICC/Jr
2005- South Brazilian championship- 2nd place- ICA Brazil Cup- 5th place- ICA
2006- Petrobras Top 12 Drivers championship- 3rd place- ICA
2007- Petrobras Cup- 1st place- ICA
Markus Niemela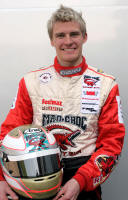 born 20.03.1984,
Finland 2006: First season in Formula Renault UK, Mark Burdett Motorsport – One victory – One Fastest lap – One Pole position – Multiple Driver Of The Day Awards – awarded by Renault Sport – Best positions 1st, 2nd, 3rd, 2x4th – 7th in the final standings – Voted as a "person of the year" in his hometown (Rauma)
2005: First season in Formula BMW-ADAC (Team Rosberg) – 7th in championship points. Many crashes resulting to damaged car during the season (12 out of 20 races) – One victory – One pole – 5th in UK Formula Renault Winter Championship, 3rd best qualifier of the championship (3rd, 4th, 9th and 3rd in qualifyings) Result is great considering that Markus drove Formula Renault first time ever in free practice of first race meeting and had never been on those tracks before!
2004: First season in Formula Ford – Finnish Champion – Swedish Champion – Winner of STCC Formula Ford championship – Was leading Scandinavian Championship before the last round. Did not take part in last round and finished 2nd in championship because of that – Won two first races of Finnish karting championship (didn't drive whole series because of For-mula Ford -championship) – Nominated as a "Young Champion" by Finnish ASN – First formula BMW tests: Fastest at Lausitzring, Oschersleben and Hockenheim short and sec-ond fastest on Nurburgring (unofficial tests). 2003: karting, category Formula A. Because of accident in a European championship race, couldn't drive for three months – was not able to drive any championship series as a whole. – 5th in World Championship – Podium places in French and Belgian championship races – Victories in Finland and in Belgium (other than championship races) – First test in race car (Formula Ford). After 4 laps was faster than drivers who had raced Formula Ford with some good results!
2002: karting, category Formula A, as a private driver. – Finnish champion, Formula A – Fastest laptime of at least in one heat of every European Championship round – Became wanted driver for 2003 for many teams due to impressive speed throughout the whole season 2002 – Qualified in World Cup final but technical problems caused DNF in pre-final and final
2001: karting, was supposed to drive Formula A European/World Championship – Injury of left arm in snowboard accident before the start of season (not able to race) – Practiced driving one-handed whole year – Only one race driven, one race won (national, popular end of the season –race). Drove practi-cally one-handed, but won the race against top Finnish karters (ICA)
2000: karting, first season in an international category (ICA) – 4th in international Viking Trophy –event (includes countries such as all the Scandinavian coun-tries and Russia, Estonia, Lithuania etc.)
1999: karting, – some victories (category Yamaha)
1998: karting, – Finnish junior championship 1st position by maximum points.
1997: karting, – Finnish junior championship 2nd position
1989-1996: karting, regional and club championship victories etc.
Adrian Quaife-Hobbs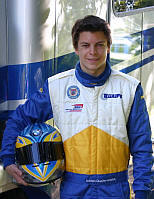 D.O.B. 3 February, 1991
Career: 2002 Start Karting in Honda Cadets.
2003 Mini Max Race winner
2004 Triple Kart Champion Mini Max summer champion at Bayford Meadows, Mini Max summer champion at Buckmore Park, Mini Max summer champion Lydd International Raceway, Mini Max lap record at Buckmore Park, Mini Max lap record at Lydd international raceway, Mini Max lap record at Bayford Meadows for two and a half years.
2005 T Cars Champion T Cars Autumn Trophy Champion Youngest ever winner of a M.S.A. sanctioned championship at 14 years 8 months 14 Wins 10 Pole Positions 8 Fastest Laps 3 Lap Records. First ever driver to run the number 1 plate in T-Cars. 2006 T Cars Youngest ever BRDC rising star, Formula BMW scholarship winner. Youngest ever Fortec Motorsport team member 2007 Formula BMW UK Championship MSA British Race Elite Driver